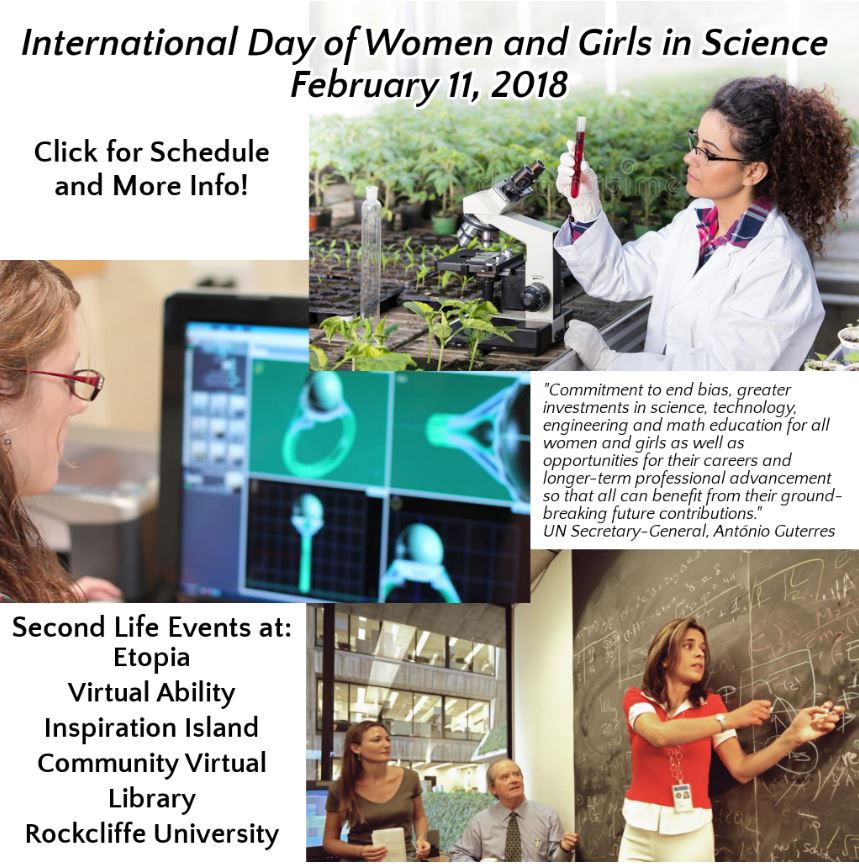 Our aim is to address the challenges for females undertaking S.T.E.A.M. study and careers and to present forward-looking and proactive options.
Learn about the International Day of Women and Girls in Science worldwide events at http://www.un.org/en/events/women-and-girls-in-science-day/index.shtml
Feb 11, 2018 – Events Schedule: Second Life International Day of Women and Girls in Science
8:00 am – Self-guided tour of Etopia Island http://maps.secondlife.com/secondlife/Etopia%20Island/194/56/22. Choose from several walking tours or take the Etopia Circle Line. Visit with storytellers to learn more about the contribution of real women to environmentally mindful community building and more.
9:30 am – Virtual Ability, Inc: The Food Lady: Carving My Path in the Science of Nutrition with presenter Carla D'Andreamatteo (SL: LoppiBear) at the Research Pavilion, Healthinfo Island. http://maps.secondlife.com/secondlife/Healthinfo%20Island/130/196/30
Whole Brain Health on Inspiration Island Events 10:30 am – 1:00 pm:
http://maps.secondlife.com/secondlife/Inspiration%20Island/129/33/703

–10:30 am – Keynote Address – Lyr Lobo: A Journey into the Unknown: Women in STEAM
Join us as we reflect on the past, examine the present and gaze into the future of Women in the fields of science, technology, engineering, the Arts, and mathematics (STEAM). Using a trivia game presentation style, Lyr Lobo, aka Dr. Cynthia Calongne, welcomes active participation in the chat log and will blend the speaker notes with trivia questions for everyone to enjoy!
–11:00 am – Interactive exhibits at the Women in S.T.E.A.M. Thuja Hynes leads a tour of her Women in S.T.E.A.M. center, originally constructed at Science Circle and now hosted by Inspiration Island. Interactive exhibits such as Rate Your STEAM-ability and Share Your STEAM Heroes, and displays discussing the challenges as well as opportunities for females in education and careers.
–11:30 am – Tour of Nutrition Resource Center
StarLight will be giving a tour of the Nutrition Resource Center which provides links to healthy nutritional resources for those who seek to improve their health by changing their nutritional eating habits.
–12:00 pm – Exploration of Brodmann's Brain with OsanGar
Cortical cytoarchitecture based on Brodmann Areas, followed by immersion into the brain and explanation of the region localization based on coordinates in the cortex planetarium.
1:00 pm – TOUR new Library Land location for Community Virtual Library with Valibrarian http://maps.secondlife.com/secondlife/Cookie/197/201/21
1:30 pm – Rockcliffe Virtual Library Tour with Mel Krupinski
Resources related to immersive environments: articles, bibliographies, curated collection of research tools, and other links to knowledge emergence using virtual collaborative environments.  http://maps.secondlife.com/secondlife/Rockcliffe%20Library/61/161/30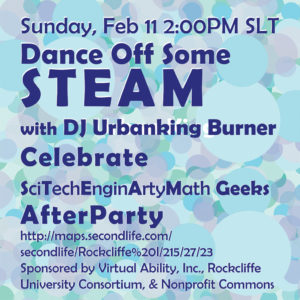 2:00 pm – Dance Off Some STEAM with DJ Urbanking Burner – Celebrate SciTechEnginArtyMath Geeks AfterParty   http://maps.secondlife.com/secondlife/Rockcliffe%20I/215/27/23
Sponsored by Virtual Ability, Rockcliffe University, & NonProfit Commons.